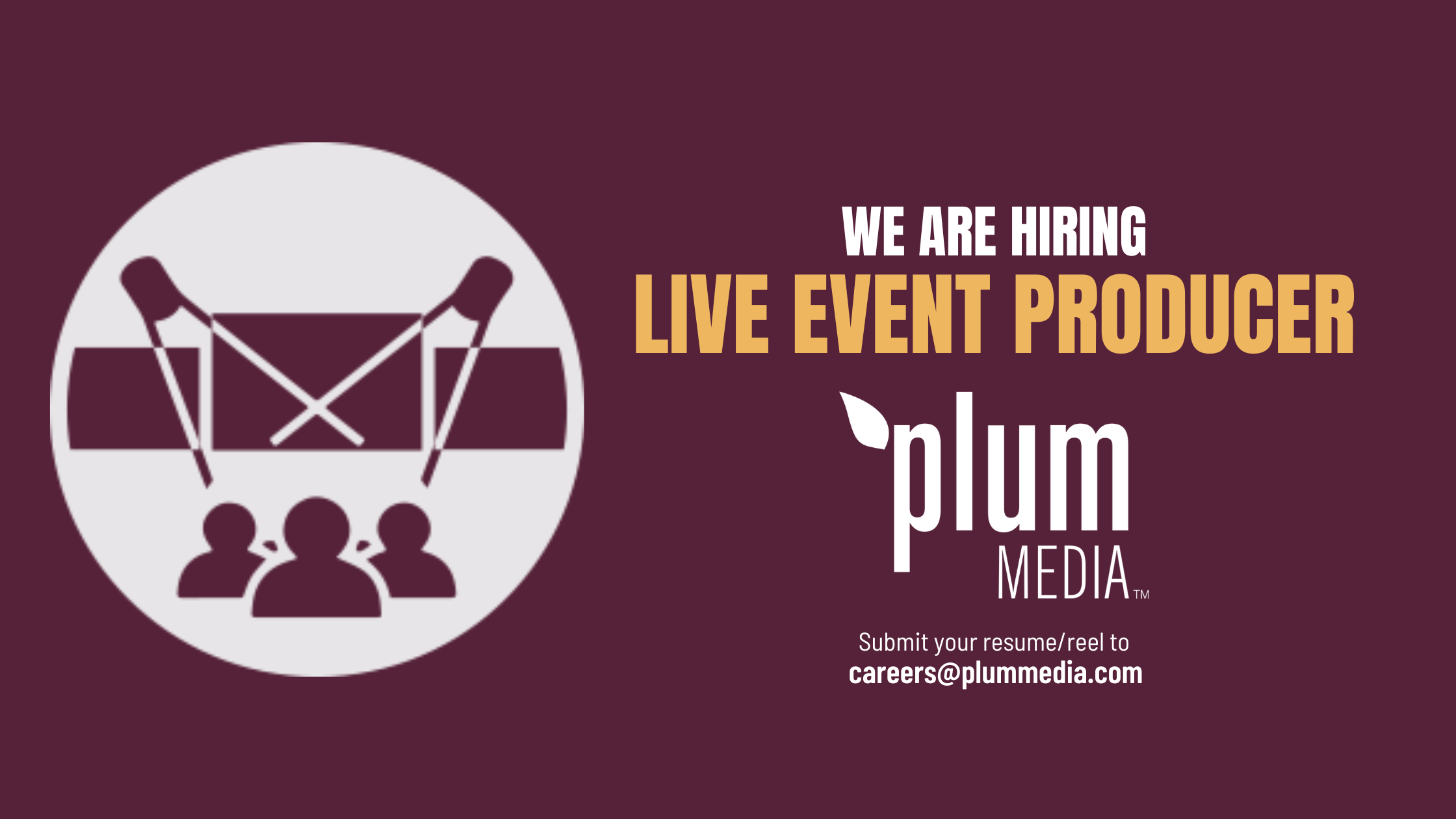 Live Events and Video Producer
If you prefer work that is predictable or unchanging, this is not for you.
This role presents new challenges every day. It combines the best of a creative producer & project manager with the technical insights of a live & virtual events director.
Some days you'll manage virtual, hybrid, or live in-person events with a large technical team. Other days you're writing and producing video content with a storyteller's eye. A background in theater production and live broadcast news is a plus.
CREATIVE PROBLEM-SOLVER
Our business is built on relationships and delivering excellence. We're looking for someone who is confident leading a meeting with executives, but equally comfortable in a control room calling a live show.
Because we produce live content, this role requires a quick, methodical problem-solver who is not just calm under pressure, but actually thrives on it. Occasional late hours, weekends or traveling are all part of the role.
COMMUNICATION & RELATIONSHIPS
The right person must have a knack for listening and comprehending a client's vision, asking the right questions, and then developing experiences that deliver a "wow" factor. At the same time, we need a collaborative team player who helps elevate the skills of your colleagues.
Strong writing and presentation skills are a must. We write in a conversational, spoken-word style to help non-professional presenters sound authentic and look confident. The right candidate can take corporate messaging and making it seem unrehearsed.
PROJECT MANAGEMENT
Complex programs require obsessive attention to detail. Budgets, spreadsheets, production schedules and deliverables will fill your screen as often as creative proposals and show scripts. You will need to be adept at estimating, tracking, and reconciling production budgets; and negotiating with vendors on pricing, timelines and execution. Ability to lay out technical floor plans is plus. Knowing how to design using software such as Vectorworks is a feather in your cap.
QUALIFICATIONS
5+ years of experience in live event and media production.
Strong communication, written, presentation, and interpersonal skills.
Demonstrated scriptwriting skills.
Extremely organized and detail oriented.
Able to juggle multiple projects simultaneously.
Proficient in the Microsoft 365 Suite (Word, Excel, PPT, Teams).
Familiarity with Final Cut Pro, Adobe products.
About Plum Media
In 2022, Plum Media celebrates its 25th anniversary working with companies and brands to engage audiences with creative videos and live & virtual events. Plum's in-house staff of producers, directors, writers, cinematographers, graphic designers, and online editors collaborate quickly around customers' unique needs. The result: award-winning visuals and experiences that inform and inspire audiences to think, feel and most importantly – act.
Plum Media's clients include regional and global companies in industries such manufacturing, health services, financial, telecommunications, and education as well as non-profits and charities.
Interested candidates should contact Careers@PlumMedia.com with resume and demo reel.
This job description is not intended to be all-inclusive. The employee will perform other reasonably related business duties as assigned. Plum Productions, Inc. reserves the right to revise or change job duties as the need arises.