Guest Post By: Joe Martinez
Every single day, YouTube videos generate billions of views. But how do you, the advertiser, tap into that massive audience? With Google AdWords, an online advertising service, the tools for getting your ads in front of the coveted YouTube crowd are right at the tips of yours fingers. From text-based search ads, in-app mobile ads and YouTube ads there are a variety of ways to target your customer. How do you effectively utilize these tools? Read on below for strategies.
Customize Your Target Audience With Customer Match
In AdWords, advertisers can upload a CSV of email addresses to use as a target audience for search ads, Gmail ads and YouTube ads.
There are a few requirements to be aware of when you're uploading your lists:
Users' email addresses from your list MUST be associated with a Google account.
For privacy reasons, the initial list you upload needs to have at least 1,000 approved emails; however, you only need a minimum of 100 emails to then create a YouTube audience.

The Customer Match tool gives you the power to segment your lists by a variety of demographics including gender, age and products purchased. You can upload separate customer lists to use for different ad groups and campaigns. After segmenting your lists, it's important to think about producing video content that speaks to each audience segment.
This way your ad will appear at the right time, in front of the right type of audience. The beauty of Customer Match is the audience duration never expires and you can update your email lists at any time.
Promote Mobile App Installs
If you have an iOS or Android app you want your target audience to install, AdWords can help. The Mobile App Install Trueview ad format will show your video as an ad before the actual YouTube video plays. The viewer will then have the option of clicking the "install" button on your video to download your app.
You only pay when someone clicks on your video, installs the app or watches at least 30 seconds of the video. If the user doesn't interact with your video, you don't pay anything. Who doesn't love free branding?!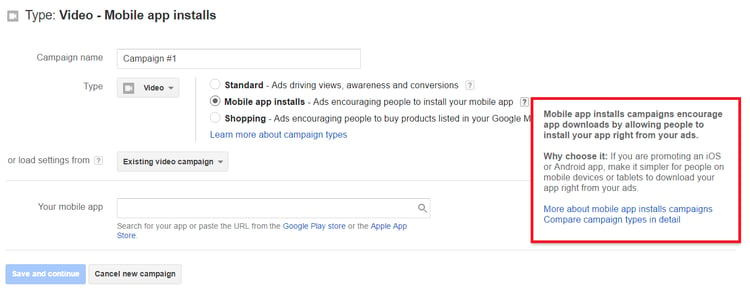 Create an engaging video which showcases the best features of your app. Give them a reason to click the "install" button on the ad. You may need to test a variety of videos to see which one will best connect with your audience. Once you create a strong video, users will be more likely to download your app directly from your YouTube ads.
Use the TrueView Shopping Tool to Showcase Your Products
YouTube ads aren't just for brand awareness. E-commerce stores can use YouTube videos to help sell products with the Trueview for Shopping feature. Advertisers just need to connect their Google Merchant center with their YouTube campaigns to start showcasing dynamic product ads within the appropriate YouTube videos.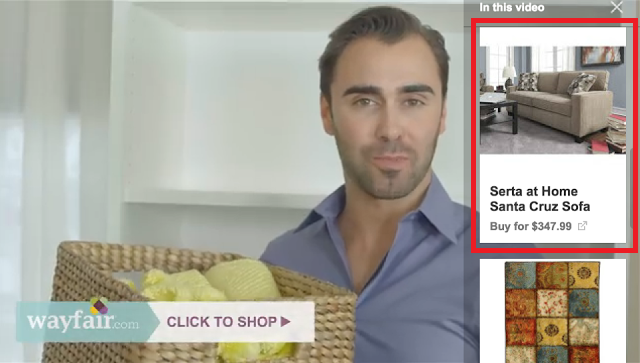 With this campaign feature, you can create videos that offer product details, images and also an option to click on the video and purchase the product. New product feeds can be created to ensure only the right products show up in each video ad. Layer on the proper audience demographics and you will soon have a recipe to sell more products online at a lower cost.
Master Video Marketing To Get Ahead of Competitors
Video marketing is becoming an increasingly essential tool for brand awareness. Start testing some of the strategies mentioned in this post to get in front of the right audience. Whether you're focused on branding to current customers, promoting app installs or encouraging sales, AdWords has a variety of tools to help make your content successful on YouTube. Figure out who your target audience is, create video content that speaks only to that audience and promote it effectively. If you can master video ads, you'll be steps ahead of your competitors.
---
| | |
| --- | --- |
| | Joe Martinez is the Senior Manager for Paid Media and Community at Granular Marketing. He brings 5 years of online marketing experience and has managed clients from all types of industries and sizes from one-shop local to international corporations. Joe earned his Bachelor of Science in Broadcasting and Electronic Communications from Marquette University. |