Plum Media is excited to announce a video campaign produced for the Better Business Bureau of Wisconsin has won multiple awards. It has received a Hermes Platinum award and two Communicator Awards Excellence awards.
The award-winning videos that were produced for the Better Business Bureau of Wisconsin focused on their Customer Reviews service.
Julie Albrecht of The Better Business Bureau of Wisconsin says, "It effectively conveys how our service stands out from others. The team at Plum made this process easy and allowed us to come away with an excellent video we can use and repurpose in many ways for years to come."
"It effectively conveys how their service stands out from others." Producer/Writer Lance Miller adds, "and it visualizes the frustration consumers face using various review sites in a very clever manner."
THE PLUM TEAM
Lance Miller - Producer/Director
Bob Gregory - Director of Photography
Evan Watters - Production Assistant
Molly Hass - Production Assistant
Angela DePons - Talent
Aaron Johnson - Graphics & Animation
Eric Conley - Editor
---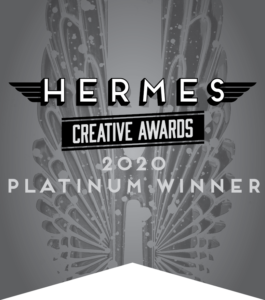 HERMES AWARD
Award: Platinum
Category: TV Ad Campaign
https://enter.hermesawards.com/entry/bbb/
Hermes Creative Awards is administered and judged by the Association of Marketing and Communication Professionals (AMCP). The international organization consists of several thousand marketing, communication, advertising, public relations, media production, and freelance professionals. AMCP oversees awards and recognition programs, provides judges, and rewards outstanding achievement and service to the profession.
AMCP judges are industry professionals who look for companies and individuals whose talent exceeds a high standard of excellence and whose work serves as a benchmark for the industry. Winners were selected from over 200 categories grouped under advertising, publications, marketing, branding, integrated marketing, public relations/communications, electronic media, and pro bono. A list of Platinum and Gold Winners can be found on the Hermes Creative Awards website at www.hermesawards.com.
---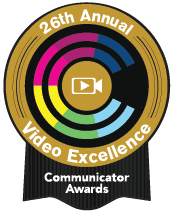 COMMUNICATORS AWARD
Award: Video Excellence
Category: Film/Video - Informational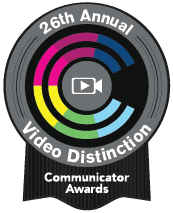 COMMUNICATORS AWARD
Award: Video Distinction
Category: Commercials for non-profits
With over 6,000 entries received from across the US and around the world, the Communicator Awards is the largest and most competitive awards program honoring creative excellence for communications professionals. Winners who received the competition's highest honor, the Award of Excellence, include Amazon, ESPN Films, Publicis Sapient, Macy's, PepsiCo Design & Innovation, Forbes Media, and Savvy. Please visit communicatorawards.com to view the full winners list.
"We are extremely proud to recognize the work received in the 26th Annual Communicator Awards. This class of entries embodies the best of the ever-evolving marketing and communications industry" noted Eva McCloskey, managing director of the AIVA. She added, "On behalf of the Academy, I'd like to applaud the entrants this season for their dedication to producing outstanding content as they continue to push the envelope of creativity."