On August 31st, 2017, Plum Media officially moved from our offices in the Third Ward to a newly renovated building located on St. Paul Avenue in the Menomonee Valley.
One of the highlights of the Plum Media building that makes it so versatile for video production is our 1000 square foot in house state of the art production studio.
Before we could build our dream studio, we had to remove the structural support column that was smack-dab in the center of the space - talk about inconvenient. We added steel supports along the walls and two 31ft. I-beams to give us the support we needed. Shout out to the crews that helped make this happen: Design 2 Construct, Pyramid Dismantling, and Germantown Iron & Steel Corporation.
Why is the Cyc wall important?
The curvature of the cyclorama (cyc) wall in our studio offers the illusion of an infinite background. It enables people to be framed from head to toe. Objects can be captured in a seamless environment that looks endless. Our studio has two hard-cyc walls with a cove (corner) making it possible for a multi-camera production to utilize both walls.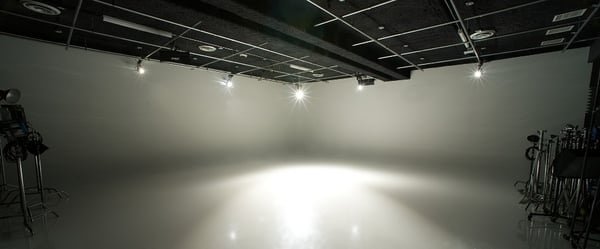 See Your Video In The Best Light
Lighting is important in any production, and our convenient ceiling grid and wall outlets offers ample lighting options for any subject matter or product throughout the studio. There are no blown fuses to worry about either. Special care was taken to make sure that the electrical grid was set up to handle any lighting or power needs that may be required for a project.
Sound Matters
The design of the wall and the lighting are not the only important features of our studio. The studio also has sound dampening walls and a ceiling that is treated with acoustic foam. The design of these features help soundproof the studio, cut ambient noise, and dampen echoes to provide an optimal sound environment for video and audio production.
And in true Wisconsin fashion, once the day is over you are only a few hundred feet from the nearest brewery to celebrate the wrap on filming your project.
This past year, our studio has been used for a number of projects - including company town halls, webinars, interviews, product videos, presentations, photography shoots and more.
The studio at Plum Media is available for rent. You can bring your own equipment in, or utilize our staff and equipment to bring your project to completion. Click here for more information on the specifics of our studio rental.
Ready to see it for yourself? Contact us today and set up a tour.
Related Content