"John McGivern's Main Streets" is excited to announce the program debuts January 30th, 2022, on select TV networks across the Midwest, including FOX 6 in Milwaukee.
Hosted by actor and comedian John McGivern, the series showcases 13 destinations across 6 states with fun facts, entertaining conversations, and a dose of laughter as only John can deliver. He'll explore unique landmarks, businesses, and gathering places, and talk to the people who make their communities special. Plum Media in Milwaukee is producing the series for distribution.
"Plum Media is very excited to bring John McGivern back to TV, and we are pleased to partner with FOX 6 and other top stations throughout the Midwest," Richard Schmig, President of Plum Media, said. "Viewers want programming that matters. By partnering with leading over-the-air stations like FOX 6, we're expanding the reach of quality programming."
"We are thrilled to welcome the John McGivern's Main Streets program to our Sunday morning line-up. The FOX 6 relationship with John goes back many years as John has been an entertaining and engaging guest on Wakeup News and Real Milwaukee", said Chuck Steinmetz, SR VP General Manager of Milwaukee's WITI FOX 6. "John's gift of storytelling combined with a strong morning news lead-in will be an excellent addition to our Sunday mornings. We think viewers will love the show!"
Judson Beck the Vice President and General Manager of La Crosse and Eau Claire's FOX 25-48 said: "Regional travel interests have skyrocketed recently, and we love what this show will provide to our viewers. There is so much to offer here in the upper Midwest. I think Main Streets will intrigue, entertain and invite viewers to experience our great communities and hospitality."
The goal of the series is to shine a light on neighborhoods and communities in the upper Midwest and build goodwill through great storytelling.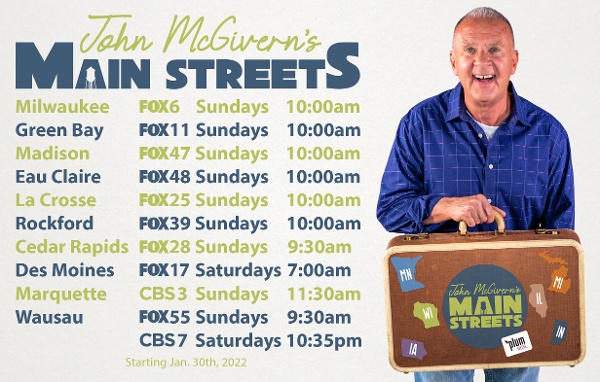 Station List
"John McGivern's Main Streets" is scheduled to air on these stations:
Milwaukee FOX 6 Sundays 10am
Green Bay FOX 11 Sundays 10am
Madison FOX 47 Sundays 10am
Eau Claire FOX 48 Sundays 10am
La Crosse FOX 25 Sundays 10am
Wausau FOX 55 Sundays 9:30am + CBS 7 Saturdays 10:35pm
Rockford FOX 39 Sundays 10am
Marquette CBS 3 Sundays 11:30am
Cedar Rapids FOX 28 Sundays 9:30am
Des Moines FOX 17 Saturdays 7:00am
More stations will be announced at a later date.