When Feeding America of Eastern Wisconsin approached Plum Media to help launch their Food for the Holidays campaign, we jumped at the opportunity to be a sponsor and partner. Of course, the chance to work with comedian Charlie Berens was like icing on a cruller.

Berens has carved out a niche with his clever take on Midwestern humor through stand up comedy and his social media stardom. The collaboration presented the perfect "ope!" – we mean opportunity for Plum to unleash our creativity for a worthy cause.

Feeding America of Eastern Wisconsin helps families who struggle with food insecurity, and the holidays can be particularly difficult. While non-perishable contributions to the food bank are up, monetary donations are down. The non-profit relies on those donations to leverage bulk buying power to purchase fresh meats and produce.

When they came to us with the campaign theme Say Nope to Hunger, the original goal was to produce 30-second TV and radio spots along with a billboard design.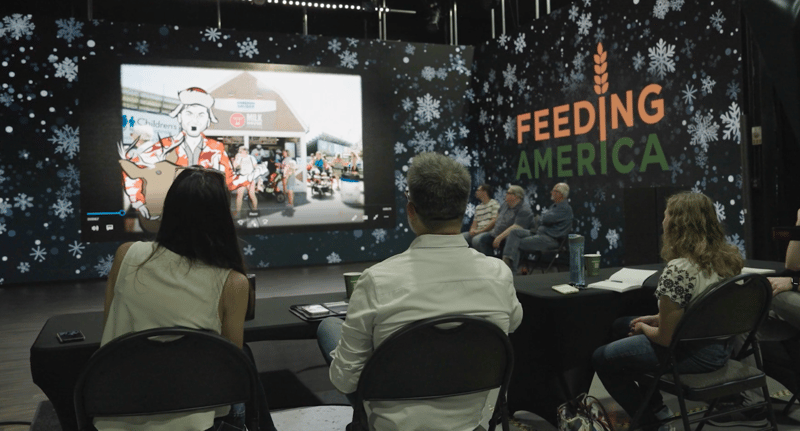 We quickly got to work. Within a few days, the Plum team developed a concept asking people to Say Nope to Hunger by donating a buck. Naturally, when Charlie Berens is involved, a buck can take on a whole other meaning.

Plum's producers, writers, animators, cinematographers, and editors pitched our concept to the clients with a storyboard animatic video, which helped them envision the final result.
Needless to say, they loved it.

In fact, they used that animated storyboard to attract even more sponsors. Soon the project grew to include deliverables such as social media spots, pre-roll ads, banner ads, digital displays, print, and a graphic wrap on shelters for Milwaukee's streetcar, the Hop. As Berens might say of the campaign, "it was soup-to-nuts."
Filming the video in our LED studio
Finally, it was production day, and the team was ready with wardrobe, props, cameras and studio. The list included:
Charlie's custom red-and-green camo jacket with matching ear-flap hat
Mounted 8-point buck
Behind-the-scenes film crew
LED production studio
For many in the group from Feeding America Eastern Wisconsin, this was their first experience on a production set.

"My first impression when I walked in was – big. Big. This was a real production. A room with three walls with LED screens and the lighting and just the professional setup created a lot of excitement for myself and my team."
~Scott Marshall, Vice President of Development & Communications, Feeding America Wisconsin
Our new LED studio in Glendale, Wisconsin gave us the visual versatility and space to manage the shoot efficiently. The atmosphere was full of fun, laughter and bloopers.
"It was impressive how much got done. There were so many changeovers, and we did a photo shoot with several costume changes. For me, that was unbelievable because we're going to have so much content to be able to use over the next couple of months. And it all really got done in a couple of hours here."
~Scott Marshall, Vice President of Development & Communications, Feeding America Wisconsin
Adding the Finishing Touches
The next step was post-production at Plum's headquarters in the Menomonee Valley. Our editors worked with our audio engineer and producers to finalize the growing list of creative assets.
"The whole team gave 110% every step of the way. The animation, the attention to detail. Even all the homework with some of the research and coming up with data points for the specifics of our campaign, it really showed that – what you have in your imagination you can bring to life."
~ Jessica Miller, Event Manager, Feeding America Eastern Wisconsin
In the end, this project was a labor of love. The excitement of working together on a full campaign – all benefitting a worthy cause in our community – was truly an honor.

Be sure to check out the website for Feeding America Eastern Wisconsin to donate a buck. And check out our behind-the-scenes video to see how it all came together.
Watch the final video