Imagine your boss walks up to your desk and says, "We need our communications efforts to engage more employees. Let's webcast our next all-hands meeting."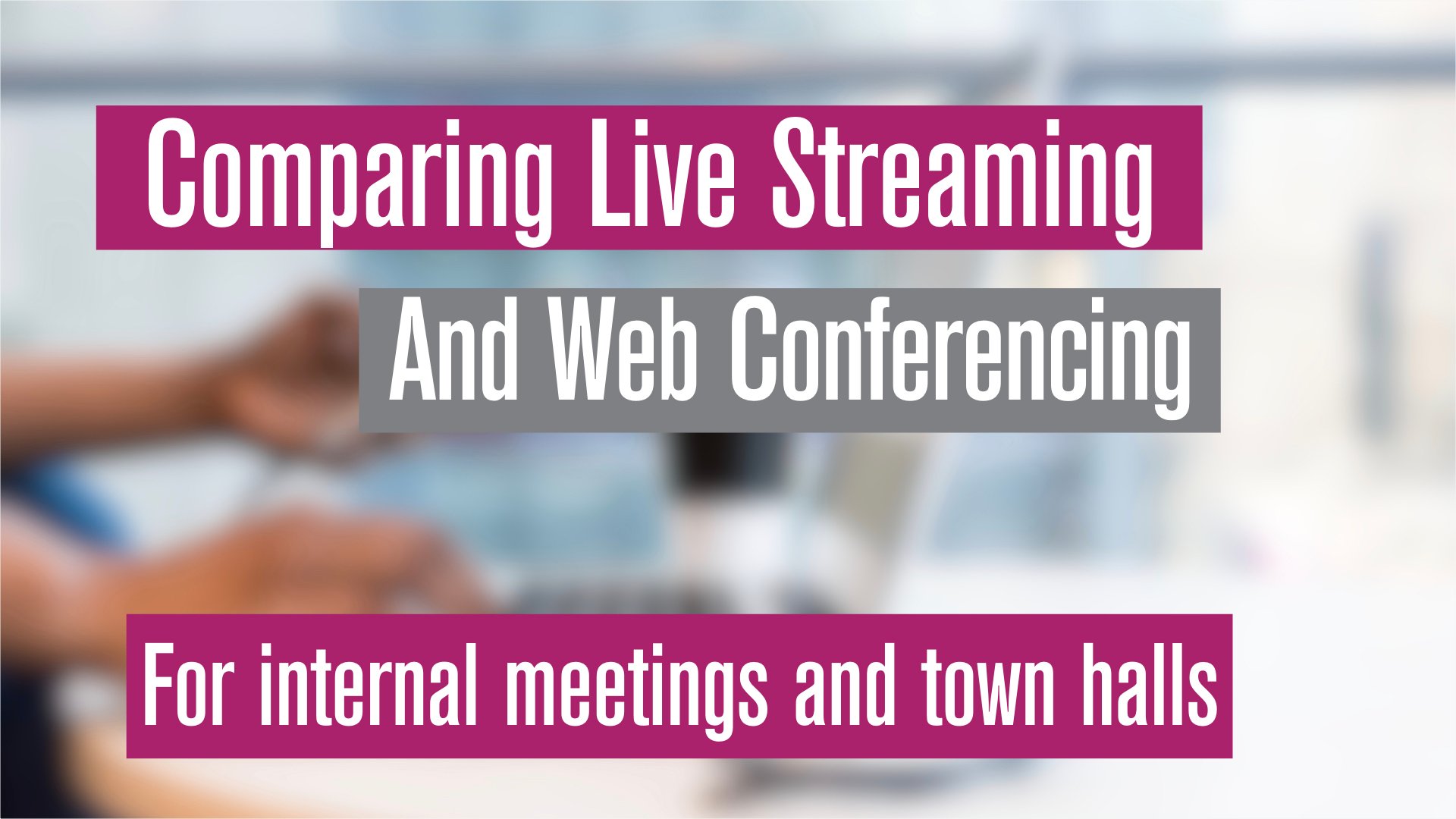 You think to yourself, "No problem, we do this all the time."
Heck, you were just on a WebEx call where a colleague shared a PowerPoint deck. He even turned on his web camera. That would work, right?
Perhaps. The real question is, "Will it be effective?"
While web conferencing platforms like WebEx and Skype work great for remote teams presenting slide decks, the viewer experience falls flat if your goal is to engage and inspire a diverse, global employee base with a compelling message.
Reach thousands with live broadcasting tools
In that case, a webcast – or live streaming as it's commonly called – packs a bigger punch. Live streaming gives you the broadcasting tools to vary the visual flow of the event. Behind the scenes, it manages the bandwidth pipeline to reach hundreds or thousands of online viewers simultaneously, whether they're on laptops or mobile devices.
Here's a quick comparison.
Live Streaming
Creates a broadcast-style experience
Dynamically mixes cameras, slides and visuals into a single window or screen
Embeds chat, polling and interactive features on the video player's webpage
Accommodates tens of thousands of concurrent users
Web Conferencing
Enables a collaborative, teaming experience
Assigns separate windows for cameras, slides or screen-sharing
Features chat, polling and interactive options
Limits concurrent users to a defined package, typically a few hundred
What viewers see as the biggest difference
The most noticeable difference is that live streaming feels like a television broadcast to viewers. Whether on a mobile device or desktop, your audience watches a seamless blend of on-camera presenters, graphics and visuals. The pacing is lively and engaging. Streaming platforms also make it possible to accommodate live remote presenters, like a television news live update from the field.
On the other hand, web conference participants typically see multiple windows on the screen. The slide deck is in one window – usually the largest box – with a web camera in another. They also see the cameras of other remote presenters or attendees. Viewers can drag one window larger and assign it greater importance onscreen. Beyond the basic layout of windows, the viewing experience is fairly static.
Controlling the message
If carefully controlling the message is your goal, live streaming gives you the ability to fine-tune how the message unfolds. Platforms such as Livestream and Ustream feature professional tools to switch between multiple cameras, slide decks and videos. Just like a broadcaster, you decide how the pacing of your content plays out before the viewers' eyes.
Using multiple camera angles, remote presenters and video roll-ins
Let's talk more about how you can amp up your live streaming production. Watching one web camera for an hour-long event can be a bit boring. If you're managing the live stream technology on your own, you should try varying the presenter's camera frame from wide shot to close-up. The best time to re-frame a shot is while the stream is showing a slide or video.
Videos are one area where live streaming shines. The platforms allow you to switch to your content seamlessly, making your presenters look like seasoned broadcast veterans. If all the details like cameras, videos, slide deck and interactive feature are a bit daunting, consider hiring an experienced partner with the broadcasting chops to manage a visually-compelling live streaming event.
Professionally-managed livestreaming event
Think about your meeting requirements. If you've typically held all-employee meetings at your company assembly hall using microphones, PowerPoint, in-room projection, professional cameras, multiple angles, remote presenters and video roll-ins, then a partner with live streaming experience becomes critical.
Unlike web conferencing tools, live streaming platforms are specifically designed to work with inputs from professional video and audio sources. They allow production companies greater control over the streaming quality to ensure your audience has a solid viewing experience.
Web conferencing platforms on the other hand are meant to be used with basic webcams. That forces a production company to scale down a high-quality event to meet the technical limitations of web conferencing software.
Should we use free platforms or sign up for paid streaming?
Why would anyone pay hundreds or thousands of dollars to live stream an event when you can create and embed an unlisted live stream using free platforms like YouTube? Here are the two key factors to consider:
Security
If your event is public-facing with few security requirements -- and it's not going to be embedded on the company intranet -- then a low-cost or no-cost solution might work. Keep in mind you get what you pay for in terms of technical support if you encounter problems. But if your event delivers internally-focused content and requires any level of cooperation from IT, security or legal, you should expect your streaming budget to start in the neighborhood of $5,000 to $7,000+ per event.
Measuring your return on investment
If you plan to do several live streaming events in a year, whether internal or public- facing, we recommend investing in an annual live streaming license. The option gives you the most flexibility to accommodate audience size, and it could reduce your per-event cost dramatically. Paid access opens up advanced analytics to measure your return on investment. You can set baselines, obtain viewer engagement reports and clearly identify how the platform is helping you to achieve your communication goals. This option typically comes with some level of account support to ensure that your company's events are successful.
Final thoughts
Bottom-line advice? Every meeting has well-defined communications goals. Live streaming gives you another powerful tool, besides web conferencing, to broadcast your presenter's message and inspire audiences. If you'd like to learn more about live streaming versus web conferencing, contact us. We love to help clients find ways to get more bang for their buck.
HANDPICKED RELATED CONTENT