Eric Conley has been promoted to vice president in a management position at Plum Media. He also continues to serve as a senior online editor. Conley has been with Plum Media since 1999.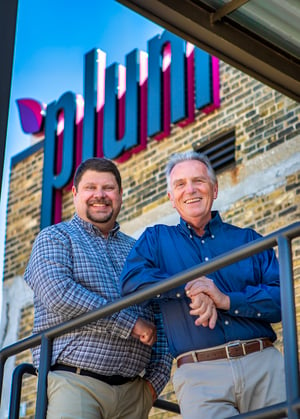 "Eric's promotion not only recognizes his years of service, but also signals a clear vision for the future of the company and its continued role as the premiere agency for video and live & virtual events in the Milwaukee area," President Richard Schmig said.
Conley has been instrumental in helping lead the company as it renovated and moved into its current location at 1418 W. St. Paul Avenue in Milwaukee's Menomonee Valley in 2017. He also manages building systems and IT infrastructure.
"Plum has been a huge part of my life for the past two decades," said Conley. "I'm looking forward to partnering with Rich to continue supporting our clients and employees for the next two decades and beyond."
About Plum Media
Plum Media works with companies and brands to engage audiences with creative videos and live & virtual events. Its in-house staff of writers, producers, directors, cinematographers, graphic designers, and online editors collaborate quickly and form teams around customers' unique needs. The result: award-winning visuals and experiences that inform and inspire audiences to think, feel and most importantly – act.
This inherent creativity is born out of diverse backgrounds in broadcasting, film and theater. In business since 1997, Plum Media has collaborated with regional and global companies in industries such as manufacturing, health services, financial, telecommunications, and education as well as working with non-profits and charities.