Plum Media is proud to announce the premiere of a project five years in the making on one of the most influential music festivals in history. The US Festival 1982: The Us Generation is a documentary produced by Plum Media, ICON Television Music and UNUSON Corporation. It will premiere November 28th on AXS TV.
The documentary tells the story of the groundbreaking, three-day event that was the brainchild of Apple co-founder, Steve Wozniak. "It's a story that has to be told that not many people know about," said documentary producer, Bruce Gibb. The Us Festival was held over a scorching Labor Day weekend in 1982. The event featured an unprecedented lineup with some of the 80's biggest names in music.
The US Festival 1982: The Us Generation features performances by a slew of acts including Tom Petty & The Heartbreakers, The Police, Fleetwood Mac, Carlos Santana, The B-52's and The Cars. It also includes exclusive interviews with Steve Wozniak, Stewart Copeland, Mick Fleetwood, Kate Pierson, Mickey Hart, Marky Ramone and others.
The film is directed by Glenn Aveni, President of ICON Television Music. Plum Media's Jay Cederholm worked as co-director and editor, Bruce Gibb as producer and Rich Schmig as executive producer.
"I've always loved music and remember hearing about The Us Festival," said Cederholm. A kickstarter campaign was created to gain access to some of the archived footage from The Us Festival and the publishing rights for songs. While not all artists granted music rights, fans of The Us Festival will enjoy performances by Tom Petty & The Heartbreakers, The Police, Fleetwood Mac, Carlos Santana, The B-52's and The Cars.
Once the footage was purchased, Cederholm combed through hundreds of hours of stock footage and interviews to pull the production together. "It wasn't work. It was a passion project and something I really enjoyed being part of," said Cederholm.
Cederholm and Gibb traveled to Los Angeles for a private press screening with Steve Wozniak and a select donors to the kickstarter campaign. The film was shown for the first time at the Charlie Chaplin Theater located at Raleigh Studios in Hollywood on November 16th.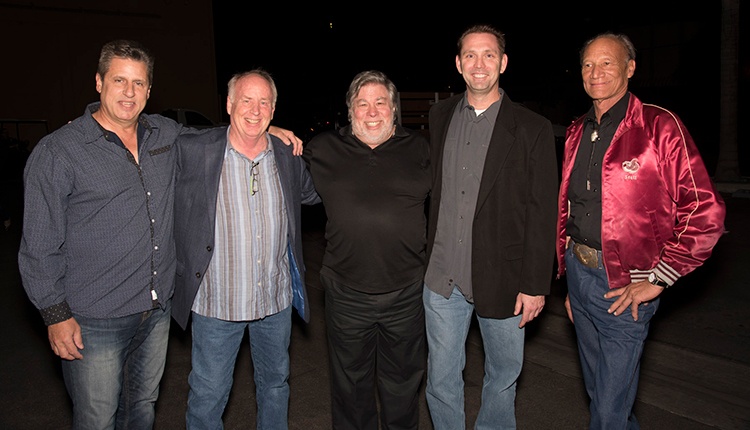 Left to right: Glenn Aveni, Bruce Gibb, Steve Wozniak, Jay Cederholm, Carlos Harvey (view more on Facebook)
Wozniak wanted to create an event like no one has ever seen before, blending music and technology. "The US Festival was one of the biggest live music festivals of its time. It paved the way for the huge festivals we see now, " said Gibb.
The US Festival was truly a groundbreaking event that changed the way the world experiences live music today. Hear the amazing stories, legendary performances and incredible interviews from everyone involved in The US Festival 1982: The Us Generation, November 28th. To find the local AXS TV channel, enter your zipcode in the search form on their website.