Plum Media turned 25 years young on July 1st, and we marked the day by eating cupcakes, sharing memories and celebrating the award-winning achievements of Plum employees within the past year. The awards are not only indicators of the quality work Plum has done, but reminders of who we are. They show how our work impacts communities and industries that matter.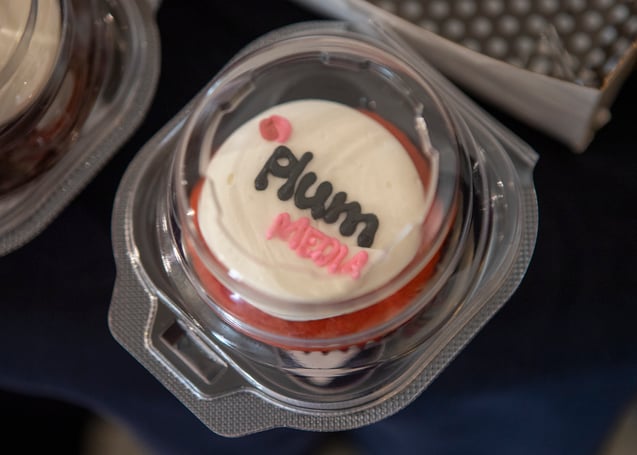 "CEO Welcome" Wins a Silver Telly Award
Molson Coors came to Plum looking for a creative way to welcome new employees to the company all while keeping important values in mind. Producers Lance Miller, Kelly Daley, and Rhonda Patzlsberger; Videographer Bob Gregory, Editors Jay Cederholm and Mikaia Jacobs; and Graphics Designer Kevin Petajan contributed to this project. They did a great job showcasing the facilities of Molson Coors, their hardworking team, and two of their main values: diversity and inclusion. Plum produced a CEO welcome video that set the tone for the hiring process for Molson Coors. Their efforts earned a Telly Silver Award , so raise a glass to the Plum team!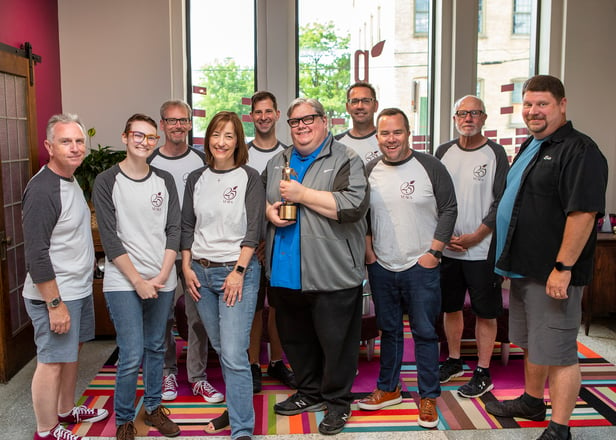 Award-Winning Bucks and Hennessy video supports #InvestBlackMKE
Our newest employee, Producer José Castillo, picked up honors for "SheSlangsWood." José produced a video showcasing Tonda Thompson, the owner of She Slangs Wood, and her new partnership with the Milwaukee Bucks and the alcoholic beverage company Hennessy. She Slangs Wood is a hand-made furniture store built on hard work and entrepreneurship. José captured her entrepreneurial spirit through his talented shots and great editing, earning a silver Telly Award. Click HERE to view the award. Click HERE to view his video.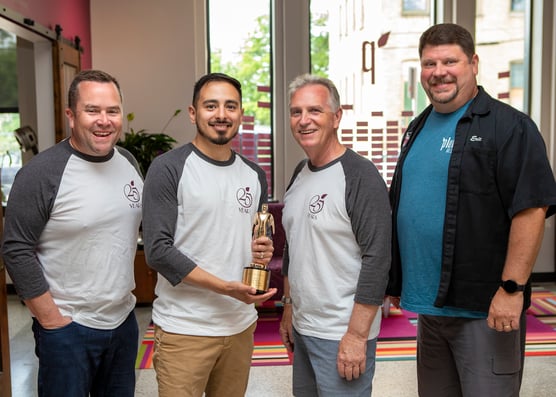 UPAF Ambassador
Speaking of serving the community, Producer Evan Watters represented Plum in receiving the United Performing Arts Fund - Workplace Giving Ambassador Certificate of Appreciation. Recipients of this award are truly dedicated to the United Performing Arts Fund Workplace Giving mission. Thank you, Evan, for representing Plum with your outstanding service in the workplace. Click HERE to view Evan's achievement.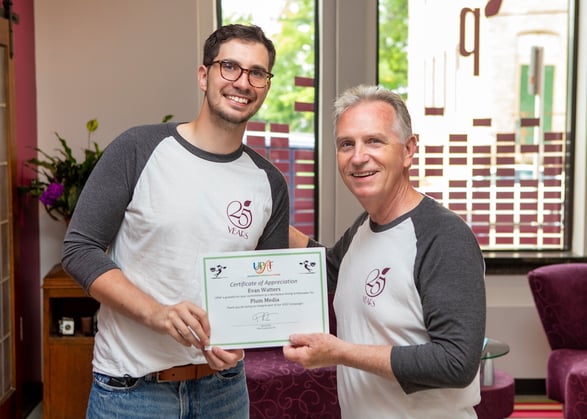 Award-Winning Video Supports Non-Profit
Also celebrating a big win and pulling in three awards was our video for Neighborhood House of Milwaukee. Plum helped the non-profit celebrate 75 years of serving children and families on Milwaukee's near west side. Producer Ken Schellin took the lead on the project with help from Videographers Bob Gregory and Jason Klappa, Editor Jay Cederholm, and Graphic Designer Aaron Johnson . Mixing decades' worth of photos, numerous interviews, and footage of the current generation of Neighborhood House kids, the video illustrates the community center's impact on generations of Milwaukeeans. The Plum team's creative efforts pulled in three awards: Telly 43rd Annual Silver Award, The Communicator Award of Distinction, and Hermes 2022 Creative Gold Award. Ken, Bob, Jason, Jay and Aaron were delighted to shine a light on such a worthwhile organization! Click HERE to watch Neighborhood House of Milwaukee: 75 Years of Inspiring Discovery.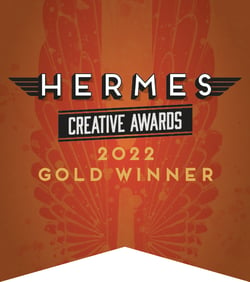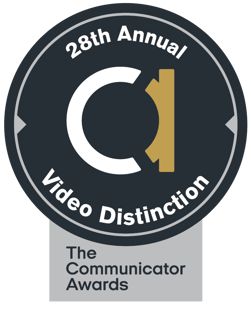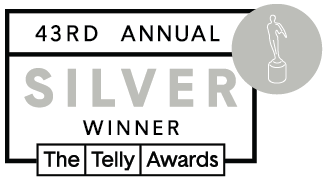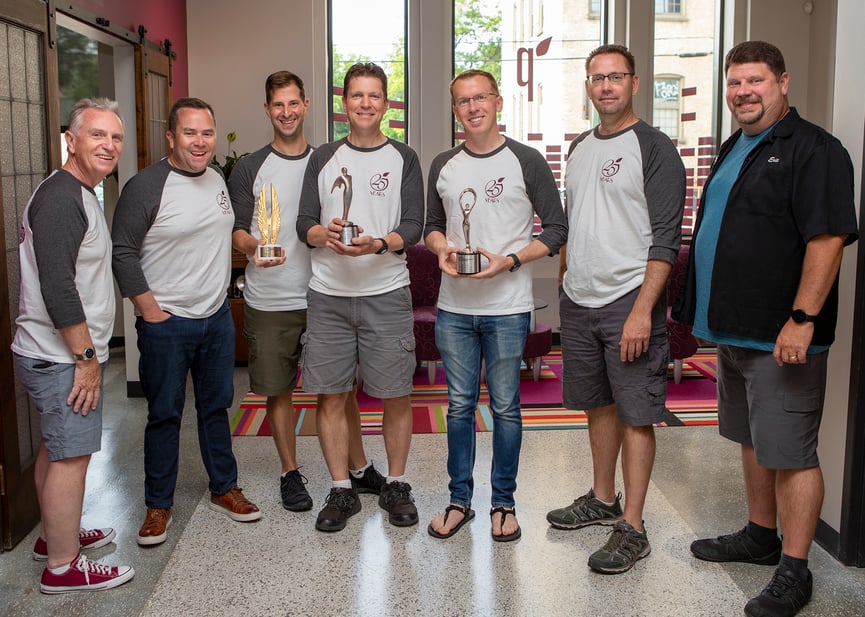 "Main Streets" TV Program Earns Platinum
If you know Plum, then you know "John McGivern's Main Streets." It is a regional travel show that takes a lot of effort, both creatively and physically, to produce, and we are proud of the work our team has done on this series. Traveling to different cities in different states and seeing different communities puts perspective on the storytelling aspect of our job. The program isn't just another travel show, but rather a journey to witness someone else's story. Producer Lois Maurer, Graphics Designer Aaron Johnson, Editor Jay Cederholm, and Videographers Jason Klappa and Bob Gregory are the heart beat when it comes to the storytelling. Whether it is producing, filming or editing, these employees put their best work forward and they were rewarded with two big awards; The 2022 Communicator Award of Excellence and The Hermes 2022 Creative Platinum Award. Congratulations Lois, Aaron, Jay, Jason, and Bob on your accomplishments on season one of John McGivern's Main Streets. Click HERE to get to "John McGivern's Main Streets" website to view the episodes.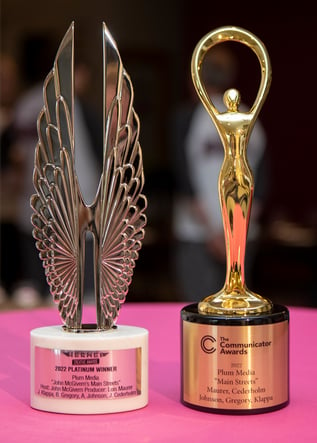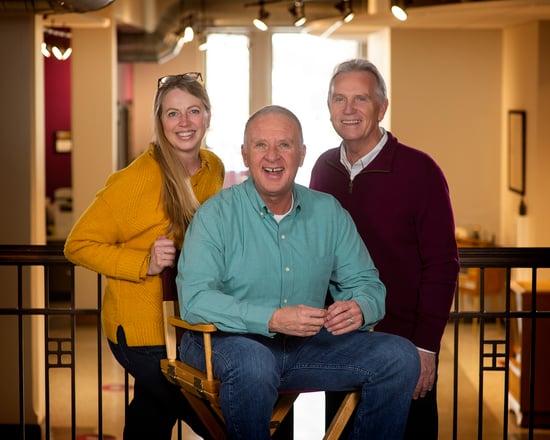 Platinum Viddy Award for Social Media Sensation
While Plum can do big multi-season productions, we also love doing smaller productions as well. One such video was shot traveling around Milwaukee during the holiday season. Producers Lance Miller, and Amy Freeze; Videographer Jason Klappa, Editors, Mikaia Jacobs and Eric Conley; Graphics Designer Aaron Johnson, and Digital Media and Marketing Strategist Laura McElree captured festive holiday scenes around Milwaukee in the video "MKE Lights." Plum videographers spent over 30 hours in the bitter cold to highlight the "who's who of Whoville" including local favorites The Miller Valley, The Milwaukee Downtown Lights Festival, and Candy Cane Lane. A very contemporary carol and myriad visual effects added to the yuletide cheer. The video was sent via email and social posts. Congratulations to Lance, Amy, Jason, Mikaia, Eric, Aaron and Laura on their efforts and reward of 2022 Viddy Platinum Award! Click HERE to view "MKE Lights".

---
A huge round of applause for our Plum team again for their achievements and a happy birthday to the company.
Here's to another 25 years!