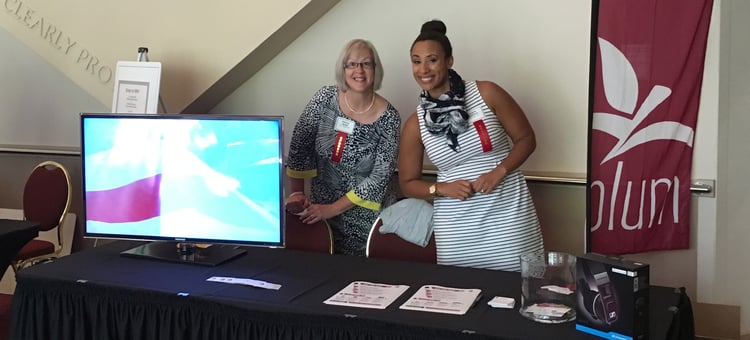 Above: Patrice Nault and Angela DePons staff the Plum booth at the 2016 Women of Influence event.
Plum Moving Media prides itself on capturing the personality of a story, an interview, a company, an issue and relaying that through the powerful medium of video. What an honor it was to interview the 2016 Women of Influence this year hosted by the Milwaukee Business Journal.
From corporate executives to grassroots community organizers to the founder of a charter school for Hmong-American refugees, each story was unique and the passion each woman brings to her work, community and home life was truly impressive.
Introductory Video for the 2016 Women of Influence / Produced by: Gael Garbarino
One thing that resonated with each of the 2016 winners is the firm dedication and commitment they all have to Southeast Wisconsin. Whether native born or transplants from another state or country, their collective desire to improve lives of others here through their chosen professions is a proud testament to the place we all call home. And as the "Wizard of Oz" theme for this year's awards luncheon attested, "there's no place like home!"
What an inspiration these outstanding leaders provide to us all as role models and mentors. Our sincere congratulations to the 2016 Women of Influence.
Visit the Milwaukee Business Journal website to view more videos and read the profiles of these amazing women.